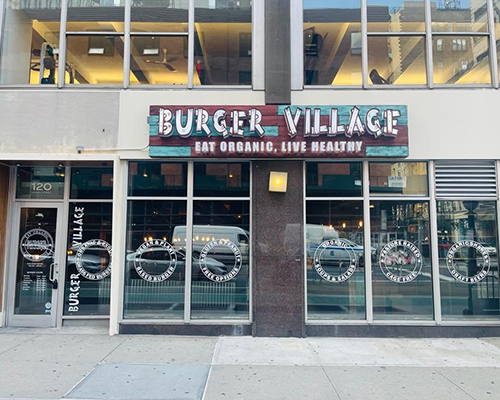 New Kid on the Block: Burger Village
October 3, 2022
The Long Island-based chain Burger Village opened its latest outpost in July in the old Schnipper's space on Church and Murray, and it has taken me this long to get a post up — even though we are big fans of the sweet tater tots and 'shroom burgers already.

The brainchild of four brothers from Long Island: Sam, Nick, Vick and Ravi Yadav, Burger Village opened its first location in 2013 in Great Neck. They then expanded to Park Slope, Downtown Brooklyn, Hicksville, Farmingdale, Astoria and San Luis Obispo. This is their first on the left bank.
Read More
Burger Village is All Set to Take Over Midtown Manhattan with its Famous Organic & Exotic Signature Burgers
New York (September 20, 2021) – After garnering praise from satisfied customers in Astoria, Brooklyn and Hicksville, Burger Village is now ready to bring their renowned signature burgers to Midtown Manhattan.
Read More
How to Enter
It is easy to enter the contest. Just follow these simple steps: Like our contest post on our social media accounts @burgervillage Comment on the post Tag more Burger Village fans in the post Share the post with your friends on your social media channels for a chance to win! A winner will be announced every month on our social media channels. Our team will contact you on your social media account to award you with your prize. If you win, you will receive your card within 7 business days. Make sure to follow all the steps when you enter the contest to maximize your chances to win. GOOD LUCK BURGER VILLAGE FANS!
About Burger Village
Burger Village serves organic, antibiotics, and hormone-free products in the form of juicy burgers, fresh hand-cut fries, salads, soups, shakes, and delicious desserts. We believe that organic is sustainable. This is why keeping in mind the need to eat healthy with today's busy lifestyles; Burger Village is dedicated to providing healthy organic meals and excellent customer service. We have over 15 years of experience in the food industry and restaurant management.
Check out our newest additions to the Burger Village family in Astoria, Queens and in Farmingdale, Long Island
A new burger joint that features organic and exotic foods
By
Nick Wilson
– March 31, 2019 12:20 am
Yadav said the eatery will keep essentially the same menu in SLO that it has in New York.
"We strive to serve organic, all natural, antibiotics and hormone free products in the form of juicy burgers, fresh hand cut fries, salads, soups, shakes and other beverages along with delicious desserts," the restaurant's website states. "We believe that organic is sustainable and will always be."
An ambassador for the brand, National Football League player, Prince Amukamara of the Chicago Bears, will be present for the SLO opening, which is expected in late June or early July, Yadav said.
The business also will hire an estimated 40 to 50 new employees closer to the opening date. Burger Village will break ground on remodels to the space on Thursday, and renovations are expected to take about three months before the eatery can open.
Read More
Burger chain featuring ostrich, other 'exotic' burgers to open in SLO
By
Kathrene Herndon
– March 7, 2019 4:55 pm ET
A new burger restaurant that specializes in exotic and organic burgers is expected to open in San Luis Obispo this summer. Burger Village is currently based in New York, but a Paso Robles man has entered into a franchise deal that will bring the restaurant to San Luis Obispo and four other locations in California.
Franchise owner Ashish Verma says they expect to break ground next week at 698 Higuera St., the former Natural Café location, and be open for business by July. "There's a big organic market on the Central Coast," Verma says of why he chose to bring the restaurant, which would source produce and other food from local farmers, to San Luis Obispo. "SLO is a perfect crowd." Verma says the food is very healthy. "It's all organic and we have seen a lot of different burger concepts but there is nothing like it… No one serves exotic and organic," he says.
The exotic menu items he's referring to include beef, bison, elk, turkey, boar, lamb and even ostrich burgers, which he says cannot be held with just one hand. There will also be more than a dozen vegan items along with salads, sandwiches, organic milkshakes, wine, 30 beers on tap and six organic sodas. Burger prices in New York range from $10.50 for beef to $16.40 for ostrich. Most toppings are extra. Ashish says he hope to keep prices in San Luis Obispo the same. An estimated 40 to 50 people will be hired to work at the new location.
The eco-friendly company was created by three Long Island brothers, who say their products are organic, all natural, antibiotics and hormone free and include vegan and gluten- and peanut-free choices.
Ashish is familiar with the restaurant industry on the Central Coast, owning the new El Polo Loco location in San Luis Obispo, along with ones in Paso Robles and Santa Paula.
Read More