Burger Village is All Set to Take Over Midtown Manhattan with its Famous Organic & Exotic Signature Burgers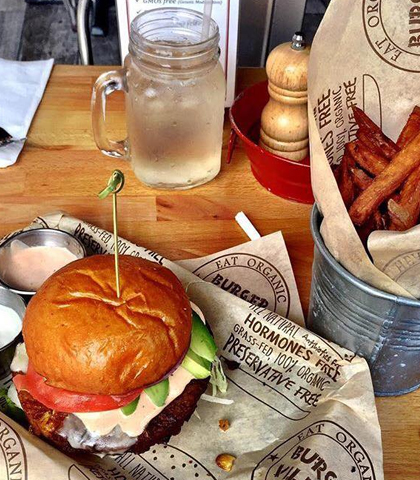 New York (September 20, 2021) - After garnering praise from satisfied customers in Astoria, Brooklyn and Hicksville, Burger Village is now ready to bring their renowned signature burgers to Midtown Manhattan. Born from the passion of four Long Island-based brothers - Sam, Nick, Vick, and Ravi, the aim of Burger Village has always remained to serve the freshest and finest organic delicacies to its customers. This passion materialized with the launch of the first Burger Village restaurant in 2013.
Nick Yadav, CEO of Burger Village, reminisces saying, "Ever since we served our first gluten-free and organic burgers, Fresh Hand cut french fries, organic milk shakes in a Peanut Free Establishment then there was no looking back." He further added, "We're beyond excited to launch further into the realm of food and service-based industry with our outlets in the prime locations in New York".
Burger Village specials such as the Organic grass-fed burger, exotic burgers like Bison, Elk , Boar, lamb and ostrich burger and Vegan burgers are second to none, Quality of product have been crowd-pleasers since their inception. What makes Burger Village a restaurant for all taste palettes and preferences is the unique blend of dietary options available on their menu. At Burger Village, there is truly something for everyone. Whether one prefers Vegan and plant-based burgers or needs to refrain from peanuts or gluten due to allergies, their menu promises to please all.
With its further expansion plans, Burger Village aims to extend its reach to Midtown Manhattan. One of their representatives confirmed their plans to serve the residents of Midtown Manhattan by partnering with Kitchen United, with an official statement, "We are proudly stepping into a partnership with Kitchen United. This is an exciting turn in our restaurant franchising program". Kitchen United is a GV-backed virtual kitchen company that allows restaurants to engage with new customers in a value-driven and low-risk environment.
The entire team at Burger Village is ready to unveil the new restaurant in Midtown Manhattan in partnership with Kitchen United and is elated as they prepare to welcome the residents of Manhattan. With this alliance, foodies will now be able to take advantage of the Kitchen United MIX for their take-out and delivery. Customers can enjoy delicious Burger Village specials such as Village Bison Burger and Village BLT or Vegan and plant-based burgers with the simple click of a button.
About Burger Village
Burger Village is well known for using the most hygienic, organic, all-natural, farm-fresh ingredients which brings healthy food in the form of burgers, fries, salads, soups, shakes, and much more. With each of their restaurant expansions, the franchise introduces a delicious twist to New York's favorite burgers, taking this opportunity to revamp their menu specials including the gluten-free and peanut-free options or the vegan and plant-based burger options. Burger Village believes in Farm to Fork and that's why they work with farmer families to serve their customers with only the best quality food which is grown and produced in actual fields or farms.