APPETIZERS
Chicken Wings
( Traditional or Boneless ) 11 ( Buffalo, Mango Habanero or Caribbean Jerk )
Served with 2 dipping sauces Signature sauce/ Chipotle ketchup / Hot Sauce BBQ sauce / Honey mustard / Buttermilk Ranch Spicy Vegenaise Sauce / Bleu cheese
ORGANIC & EXOTIC BURGERS
ORGANIC & EXOTIC BURGERS
VILLAGE BEEF BURGER
Organic, grass-fed, antibiotic and hormone free, hand formed patty
Recommended Signature Pair
CALIFORNIA MYSTERY
Cheddar cheese, lettuce, tomato, roasted red peppers, guacamole, signature sauce
SUPERIOR CHOICE
Cheddar cheese, lettuce, pickles, sautéed onions, signature sauce
VILLAGE BISON BURGER
Grass-fed, antibiotic and hormone free, hand formed patty
Recommended Signature Pair
JALO PKWY
Smoked mozzarella, lettuce, tomato, fried egg, sautéed onions, jalapeños, BBQ sauce
VILLAGE TURKEY BURGER
Organic, cage free, humanely raised, antibiotic and hormone free
Recommended Signature Pair
GOBBLE GOBBLE
Pepper jack cheese, baby arugula, pico de gallo, bacon, honey mustard
VILLAGE ELK BURGER
All-natural, antibiotic and hormone free
Recommended Signature Pair
MY DEER
Pepper jack cheese, lettuce, tomato, sautéed mushrooms, jalapeños, signature sauce
VILLAGE BOAR BURGER
All-natural, antibiotic and hormone free
Recommended Signature Pair
MAKE A MESS
Cheddar cheese, lettuce, tomato, onions, pickles, sautéed mushrooms, sautéed onions, signature sauce
VILLAGE SALMON BURGER
All-natural, hormone & antibiotics free
Recommended Signature Pair
WILD TERRIFIC PACIFIC
Lettuce, tomato, onions, avocado, fresh chopped cilantro, tartar sauce, signature sauce
VILLAGE LAMB BURGER
All-natural, grass fed, antibiotic and hormone free
Recommended Signature Pair
PYRAMIDS
Goat cheese, lettuce, tomato, grilled onions, green peppers, cilantro, tzatziki sauce
VILLAGE GRILLED CHICKEN SANDWICH
Organic, cage free, humanely raised and handled
Recommended Signature Pair
SKINNY
Cheddar cheese, baby arugula, tomato, roasted red peppers, honey mustard
VILLAGE OSTRICH BURGER
All-natural, antibiotic and hormone free
Recommended Signature Pair
PETITE
Bleu cheese, lettuce, sautéed onions, sautéed mushrooms, bacon, signature sauce
VILLAGE HOT DOG
Kobe beef, grass-fed, nitrate free
Recommended Signature Pair
GOOD DOG
Relish, sautéed onions, mustard
VILLAGE BLT
All-natural, antibiotic and hormone free
Recommended Signature Pair
CRISPY CURTAIN
Lettuce, tomato, fried egg, avocado
VEGAN & PLANT BASED BURGERS
VEGAN & Plant Based Burgers
VILLAGE BLACK BEAN BURGER
12
Non Gmo Verified handcrafted vegan burger
Recommended Signature Pair
THE BEANSTALK
3
Vegan mozzarella cheese, lettuce, tomato, onions, grilled jalapeños, avocado, spicy vegenaise sauce
VILLAGE VEGGIE BURGER
12
Non Gmo Verified handcrafted vegan burger
Recommended Signature Pair
SPICY VEGAN
4
Vegan mozzarella cheese, pico de gallo, sautéed onions, sautéed mushrooms, chipotle ketchup
VILLAGE GLUTEN-FREE VEGGIE BURGER
13
Non Gmo Verified handcrafted vegan burger
Recommended Signature Pair
GARDEN GRUB
3
Vegan mozzarella cheese, lettuce, tomato, sautéed onions, sautéed mushrooms, spicy vegenaise sauce
VILLAGE BEYOND BURGER
14
Plant based gluten free & vegan burger
Recommended Signature Pair
THE ABOVE & BEYOND
2
Vegan mozzarella, lettuce, tomatoes, sautéed onion, fresh jalapeños, BBQ sauce
IMPOSSIBLE™ BURGER
14
Plant based vegan burger
Recommended Signature Pair
THE I-M-POSSIBLE BURGER
3
Vegan mozzarella cheese, lettuce, tomato, sautéed mushrooms, sautéed onions, fresh jalapeño and spicy vegenaise sauce
VILLAGE FALAFEL SANDWICH
12
Handcrafted, Vegan & Gluten Free
Recommended Signature Pair
SLIPPERY PUFFBALL
3
Vegan mozzarella cheese, lettuce, tomato, cucumber, sautéed onions, spicy vegenaise sauce
VILLAGE GRILLED CHEESE
10
Recommended Signature Pair
HOT N GRILLED
2
Melted cheddar cheese, grilled jalapeños, sautéed tomatoes & green pepper
SIDES
Served with 2 dips. All deep fried product cooked in non GMO Rice Bran Oil
FRESH HAND CUT FRENCH FRIES
FRESH HAND CUT SEASONED FRENCH FRIES
FRINGS
(1/2 Onion Rings + 1/2 French Fries)
SALADS
ASIAN KALE SALAD
Kale, carrots, grape tomatoes, red onions, sprouts, avocado, parmesan cheese & balsamic vinaigrette
EGG & BACON SALAD
Mixed greens, boiled egg, apple wood smoked bacon, grape tomatoes, shaved aged parmesan cheese, balsamic vinaigrette
SPRING MIX SALAD
Mixed greens, grape tomatoes, cucumbers, dried cranberries, Hass avocado, balsamic vinaigrette
BLACK & BLEU SALAD
Romaine, carrots, grape tomatoes, red onions, cucumbers, bleu cheese, Caesar dressing
CRUMBLED GOAT CHEESE SALAD
Mixed greens, baby arugula, crumbled goat cheese, sun-dried tomatoes, roasted red peppers, tzatziki sauce
GREEN BOWL SALAD
Chopped romaine, mixed greens, baby arugula, cucumbers, grape tomatoes, shaved aged parmesan cheese, toasted almonds, lemon vinaigrette, lemon wedge
TOASTED ALMONDS SALAD
Mixed greens, grape tomatoes, cucumbers, carrots, red onions, toasted almonds, sesame ginger dressing
HOUSE SALAD
Mixed greens, grape tomatoes, cucumbers, red onions, organic oil & vinegar
SOUPS
ORGANIC SPICY TOMATO GARLIC
ANGUS STEAK CHILI WITH BEANS
KIDS MEAL
Choose One From Each.
ORGANIC SHAKES
Shakes are made with organic ice creams, milk & fruits Small (12oz) / Regular (16oz)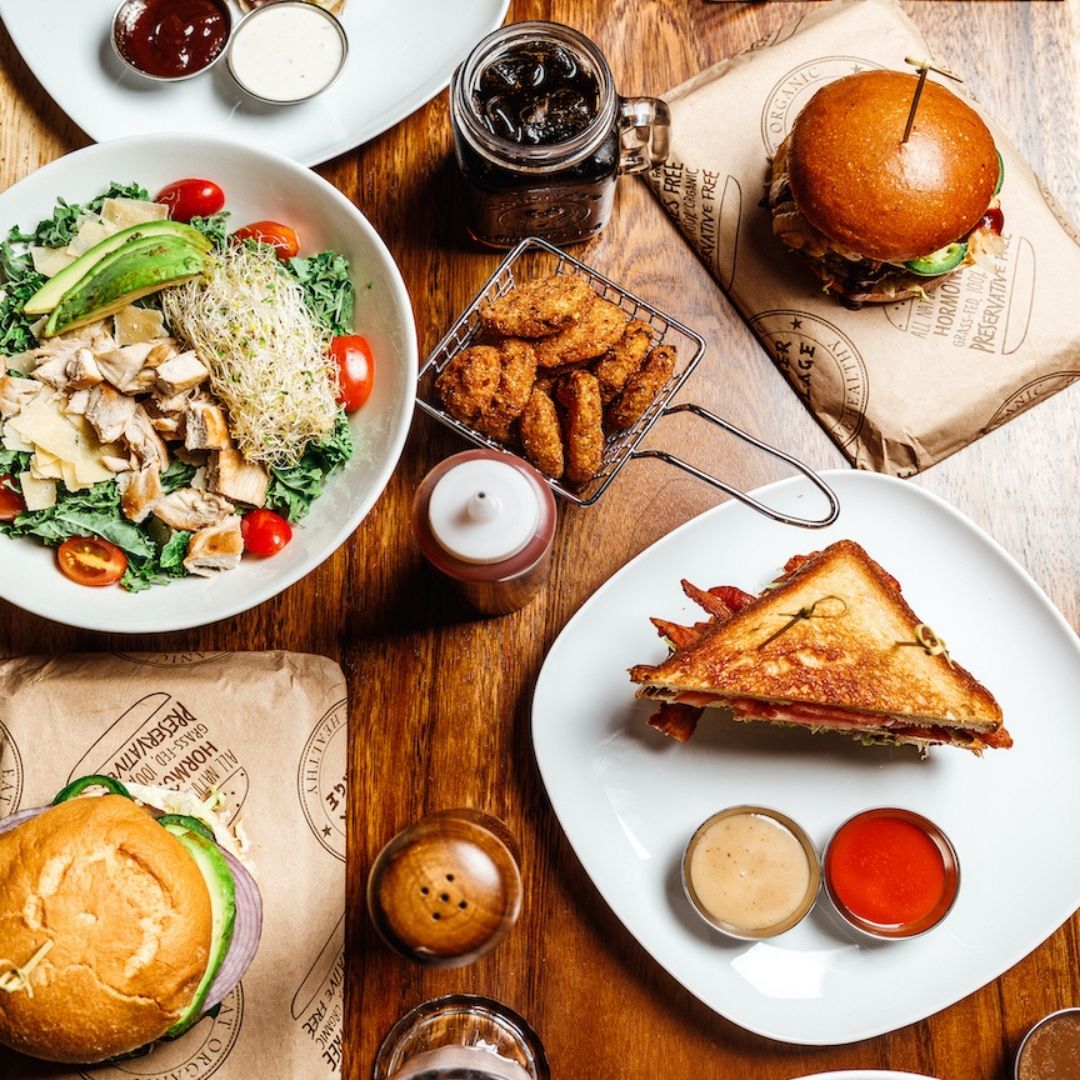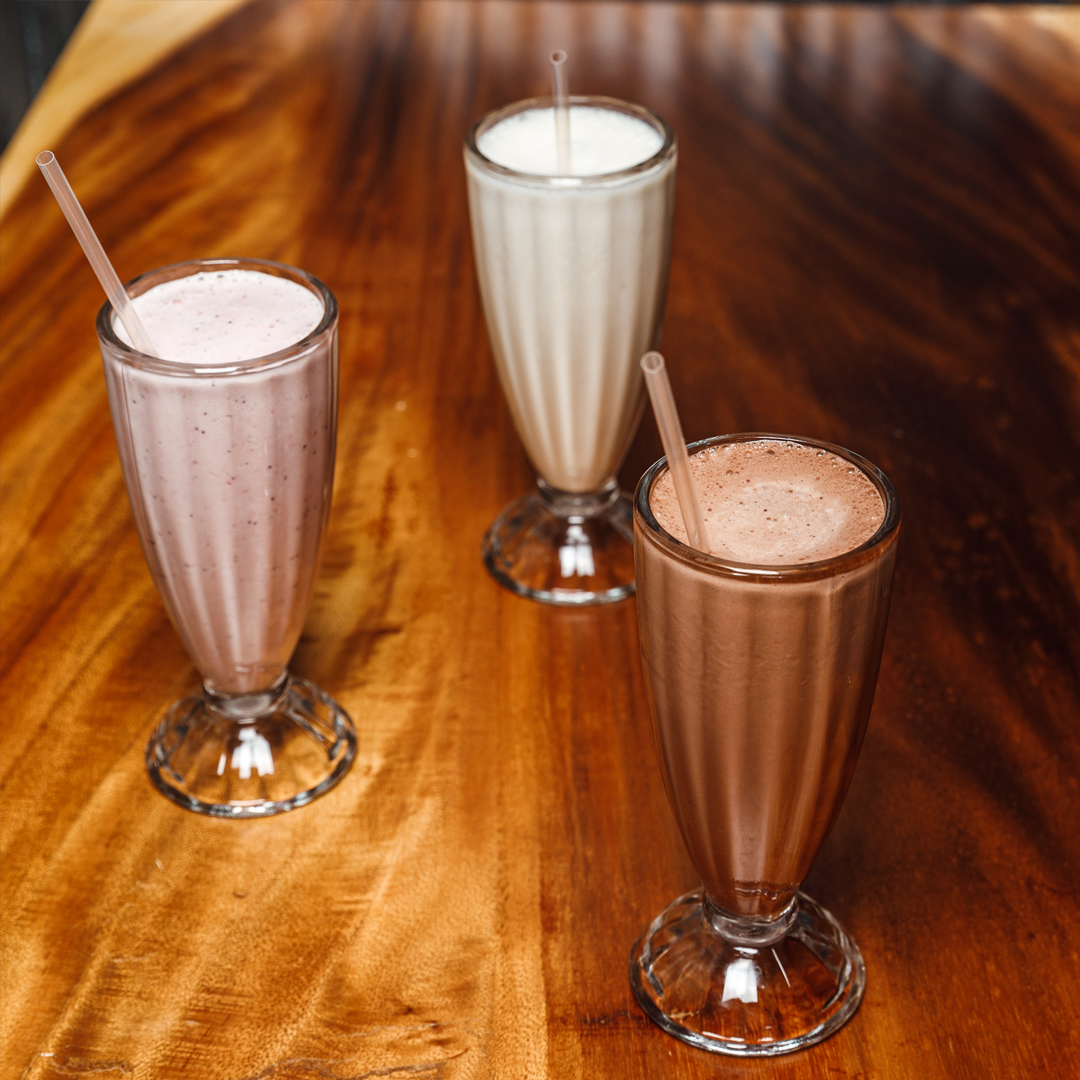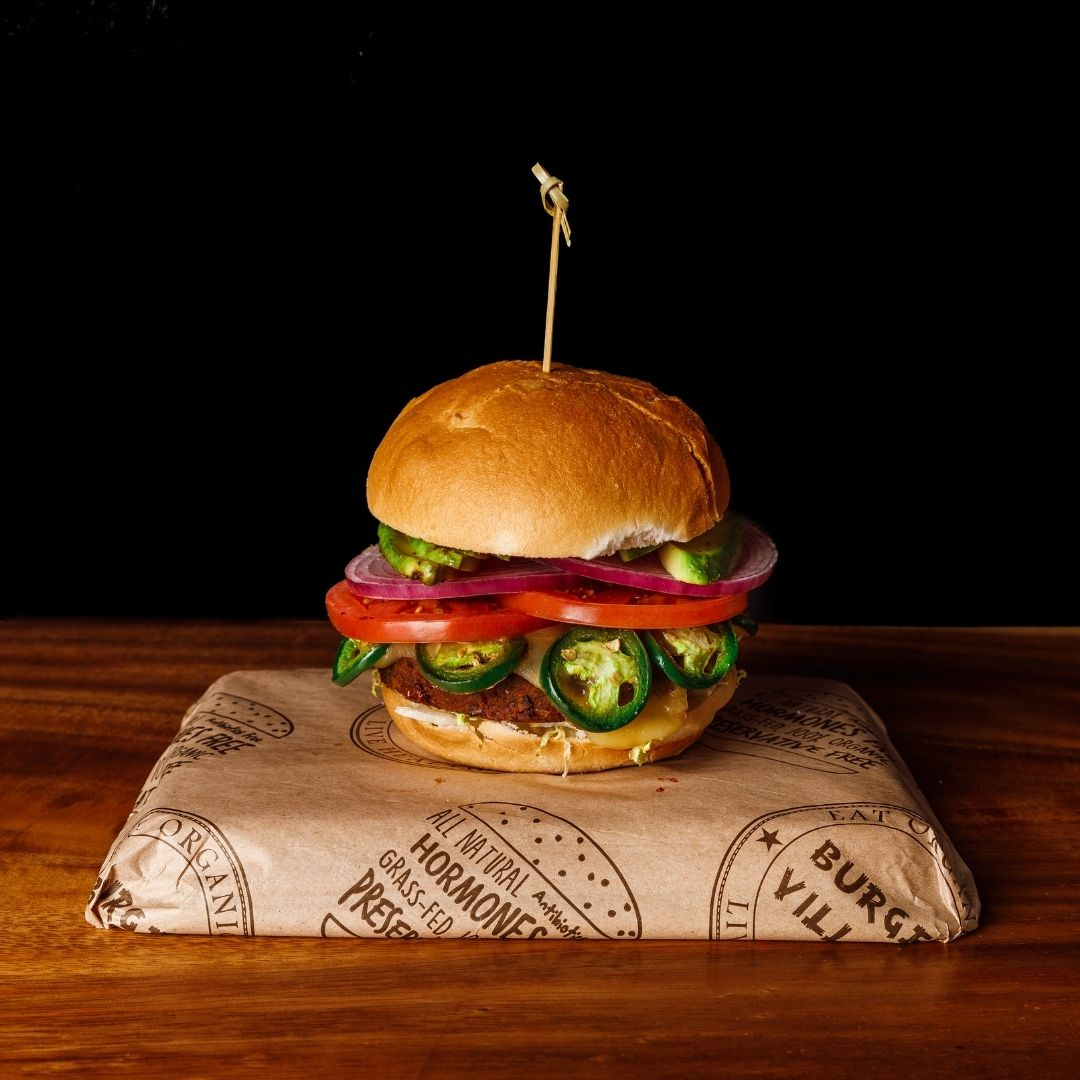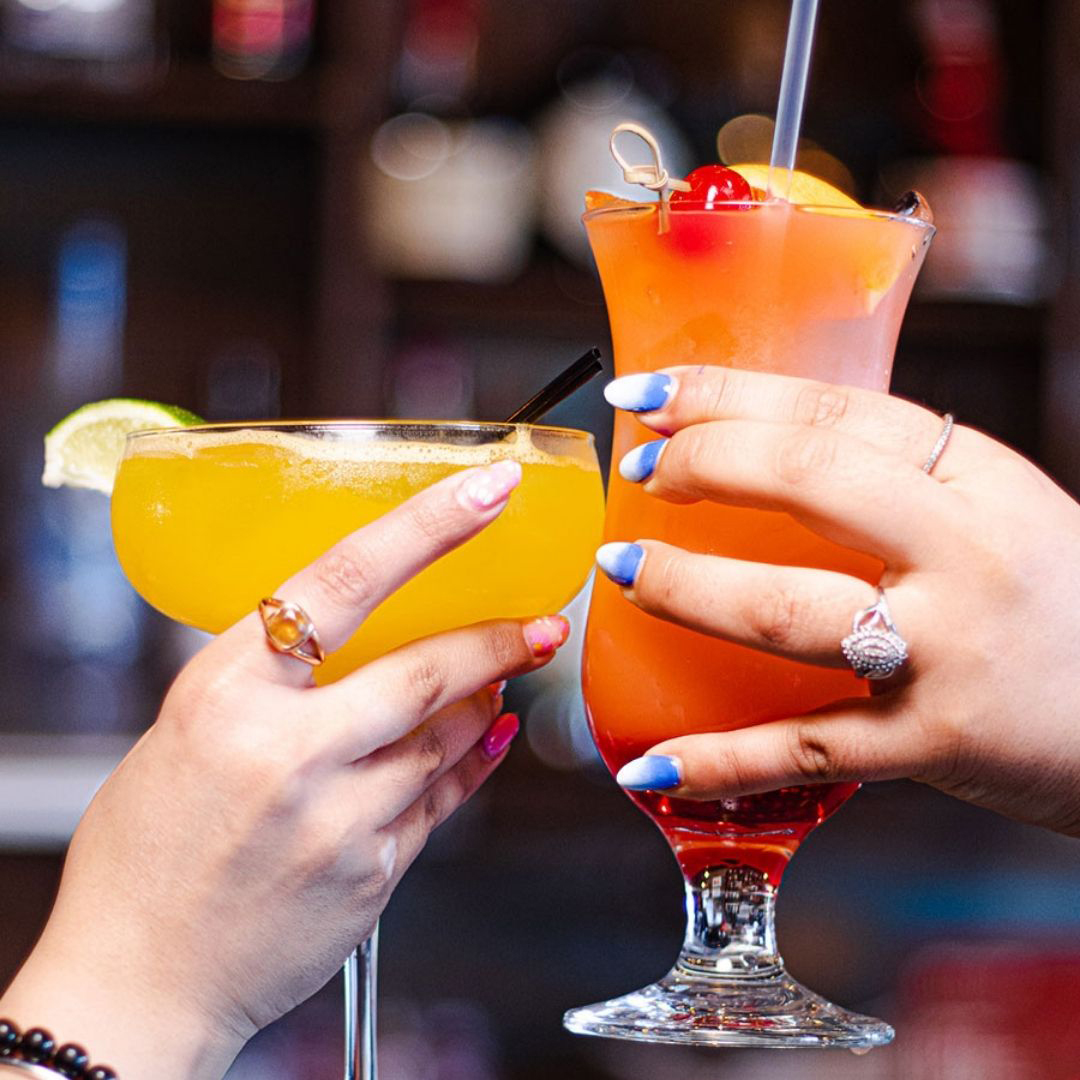 Church Street, Manhattan
Burger Village is located in the heart of downtown Manhattan at 120 Church Street, New York, NY 10007. The restaurant is known for serving high-quality, all-natural, and organic burgers made with fresh, locally sourced ingredients. The menu also includes a variety of vegan, plant-based burgers and gluten-free options to cater to a diverse range of dietary requirements.
The restaurant's interior features a rustic, farmhouse-style decor that provides a warm and inviting atmosphere. The menu offers a wide range of burgers, including classic organic grass-fed beef burgers, chicken sandwich Bison and other exotic burger like Ostrich, lamb, and wild boar burgers. We have plant-based impossible, and beyond burgers and three different vegan burgers, all made with the highest quality ingredients. Customers can customize their burgers with various toppings and sauces or pick a signature pair.
Whether you're in the mood for a classic beer or you want to try something a little more adventurous, Burger Village has you covered. Their fine draft beers and local beers are sourced from some of the best breweries in the area, ensuring you get a high-quality beverage every time you visit. With a wide variety of options, there's something for everyone at Burger Village.
For those who prefer wine, Burger Village offers a selection of organic wines perfect for pairing with their delicious food. Their knowledgeable staff can help you choose the ideal wine to complement your meal.
And, of course, no visit to Burger Village is complete without trying one of our signature cocktails. Made with fresh ingredients and creative combinations, cocktails are a must-try for anyone who loves a good drink.
Whether you're looking to unwind after a long day at work or celebrating a special occasion, Burger Village is the perfect place to enjoy a delicious meal and refreshing beverage. So, pair your signature burgers with signature cocktails for an unforgettable dining experience.
Overall, Burger Village is a must-visit restaurant for those looking for a delicious and sustainable dining experience.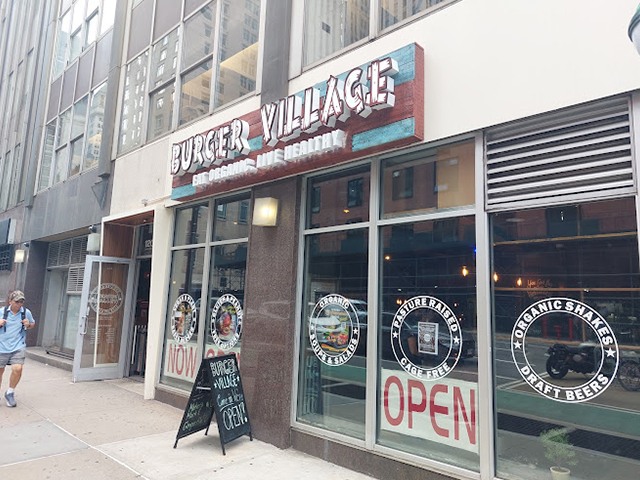 Sun – Thurs 10.00 am to 10.00 pm
Fri – Sat 10.00 am to 10.00 pm
Testimonials
Review Us on Google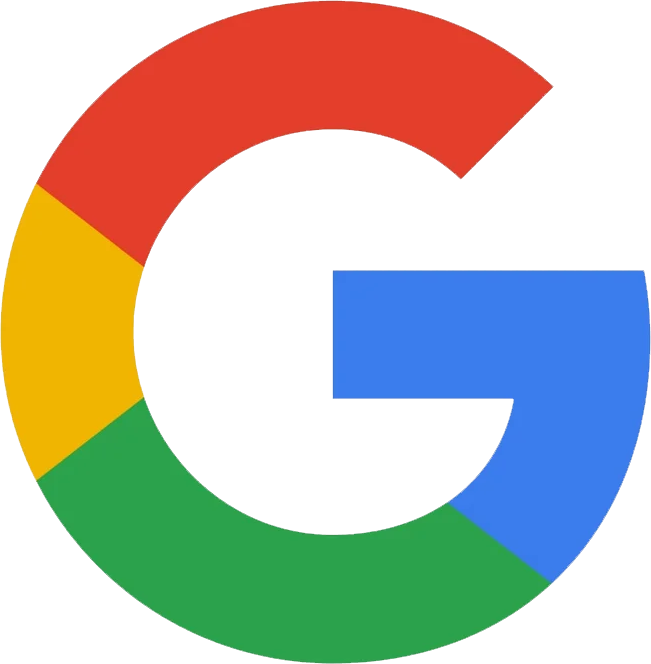 Review Us on Yelp